Previous Artworks of the Month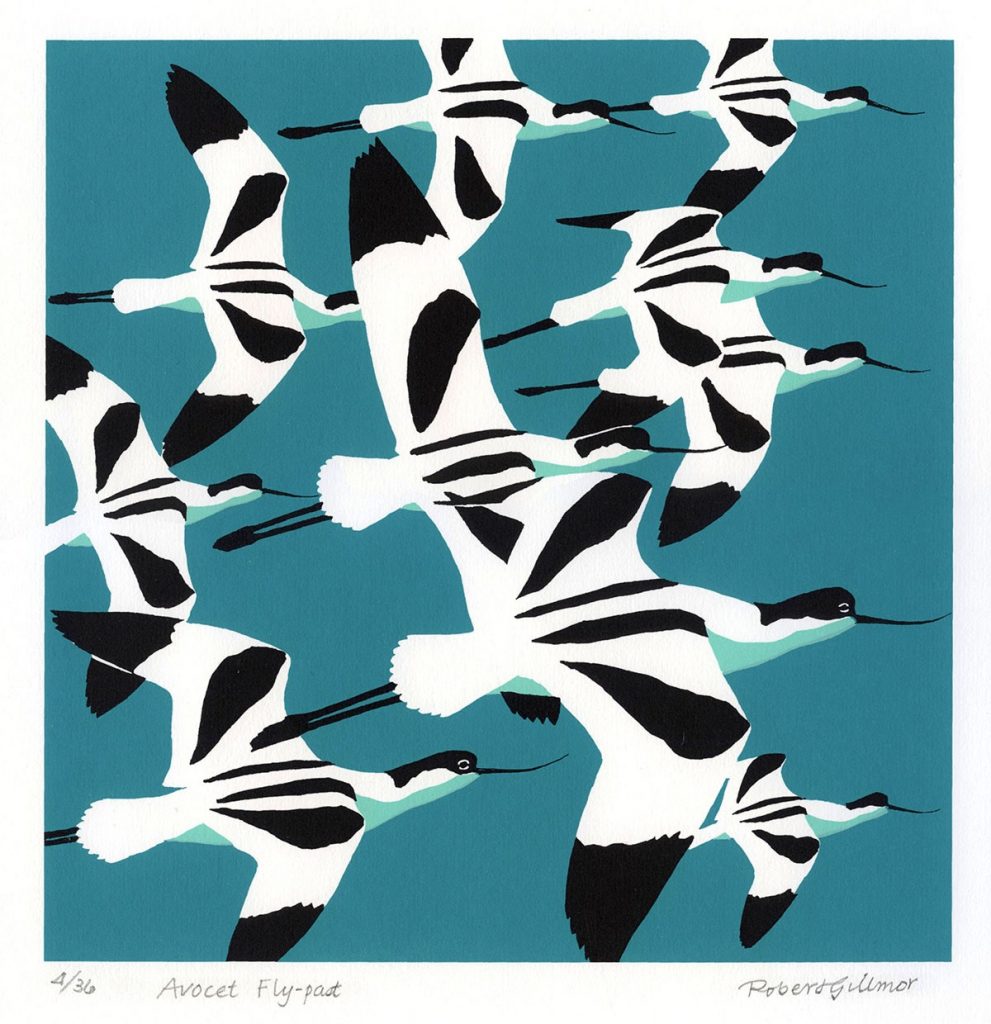 This stunning print with its energetic design caught my eye recently at the Pinkfoot Gallery in Cley-next-the-Sea. One of several produced by veteran print-maker Robert Gillmor during 2020, it continues his life-long interest in capturing Norfolk birds using his trademark strong graphics and bold colours. Full of vitality for the natural world, representing renewing life as we move hopefully towards a post-pandemic world.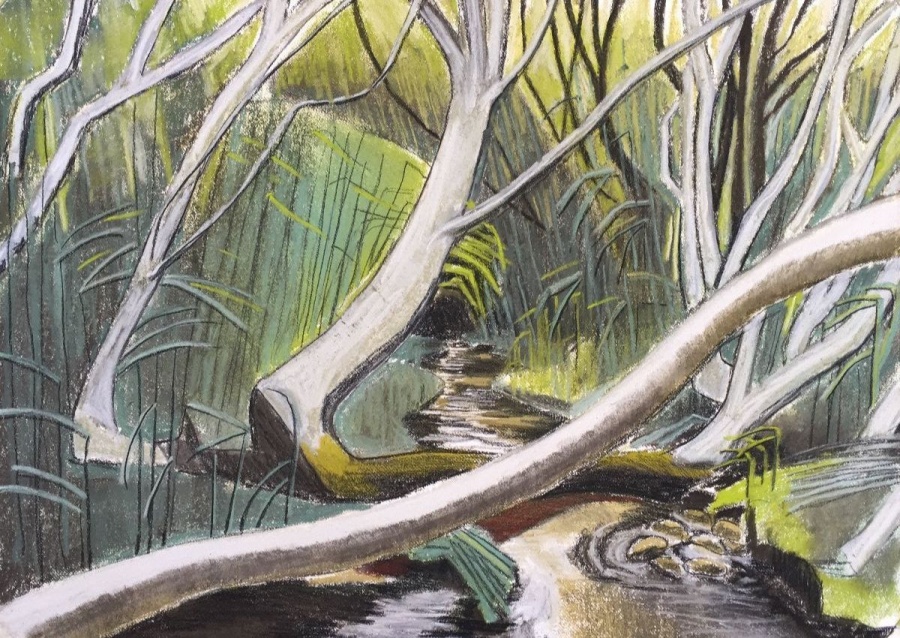 Tor Falcon has followed all of Norfolk's 38 named waterways from source to mouth, making drawings of them. Out in all weathers and in all seasons she, "watched crystal clear springs bubbling from the ground and detritus laden tidal surges powering far inland. Along the way met experts and idiots and everyone in-between, had close encounters with wildlife and spent a great deal of time in the company of cows!" Tor has become well acquainted with overgrown ditches, sewage works, weirs and mudflats. She has crossed many bridges. There are very few places in Norfolk that she didn't visit in her four-year journey along its rivers, streams and trickles. One hundred drawings were on view at Norwich Castle Museum and Art Gallery July 2019–January 2020 and a book is available here.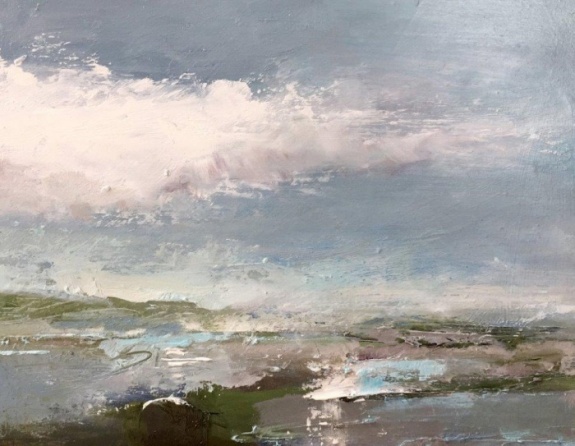 Tracey Ross Walking to Morston, mixed-media painting, 2018Featured in CONNECTION : OPEN 2018 the inaugural exhibition at the Wells Maltings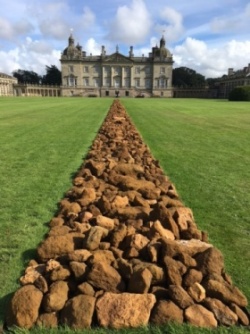 A Line in Norfolk is a new, site-specific work by Richard Long currently on view at Houghton Hall. Made of local Carrstone, a natural sandstone seen in this part of Norfolk particularly in domestic architecture (often called gingerbread in N W Norfolk). It is wonderful to see a famous artist as Long working in Norfolk using local materials to create something that truly embodies a sense of place – as Long says "nature combined with physical action". Another work North South East West, is shown inside the house, made with flints and forms a stunning juxtaposition with the Stone Hall. This is part of the large and impressive EARTH SKY exhibition running until end October – completely unmissable!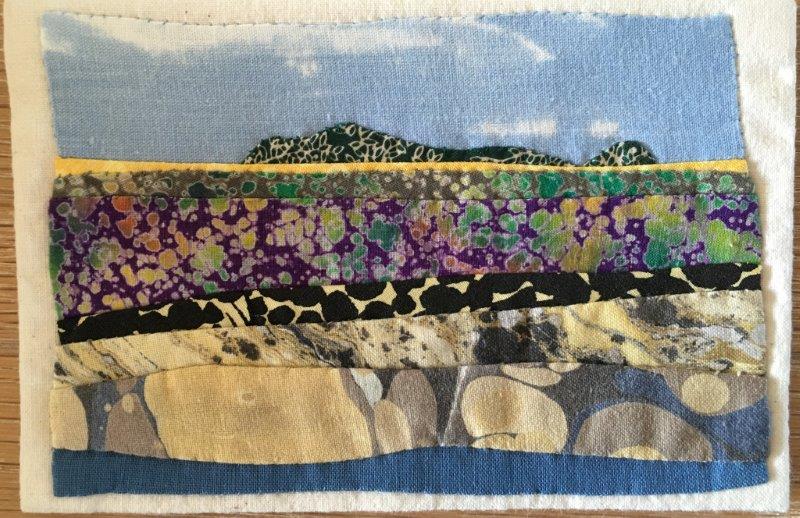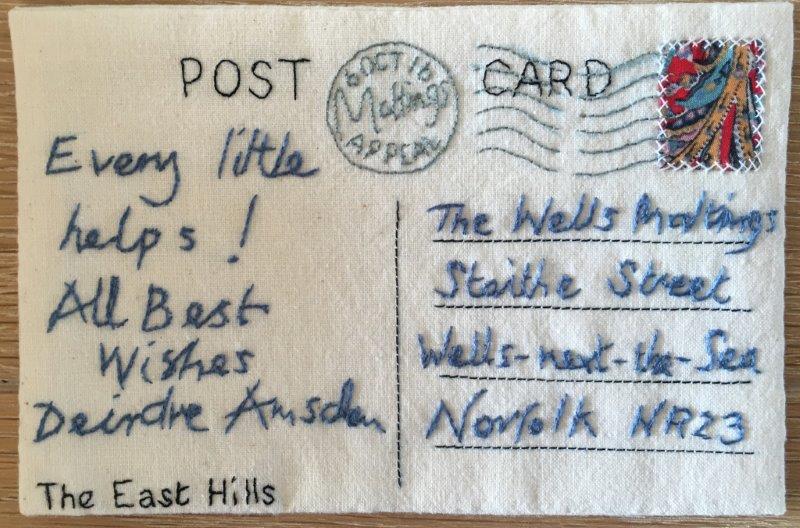 This is Deirde Amsden's fabulous postcard-sized work of art, featuring the East Hills Wells, beautifully stiched (front and back both shown here). This and many other miniature works of art were part of the Secret Postcards fundraiser event I organised in aid of the Wells Maltings which took place on 6/10/16 at Holkham Hall, under the Patronage of the Countess of Leicester. Nintey-nine artists took part, creating at total of 123 'postcards' that were sold on the night for 60 pounds each – the event raised 30k in total for the Wells Maltings new arts & heritage centre.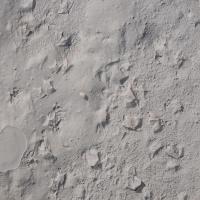 Part of a new body of work by Phil Bayliss Brown, called Groundscapes. They are large casts of the Norfolk mud flats and continue the artist's interest in making painting more accessible to people with sight loss through highly tangible sculptural objects that visitors can touch. This work and two others are currently showing at Cley Contemporary. Brown says "The Norfolk mud flats are quintessentially in flux with transitory features, including bird footprints and casts, normally too soft to experience through touch. The triad of sculptures allows the audience to feel for the first time the elusive, fugacious and impalpable features of these local ground-scapes." More work by Brown in this vein was exhibited at Gesture: To touch the untouchable, 3-7 August at a space in John Lewis, Stratford City in London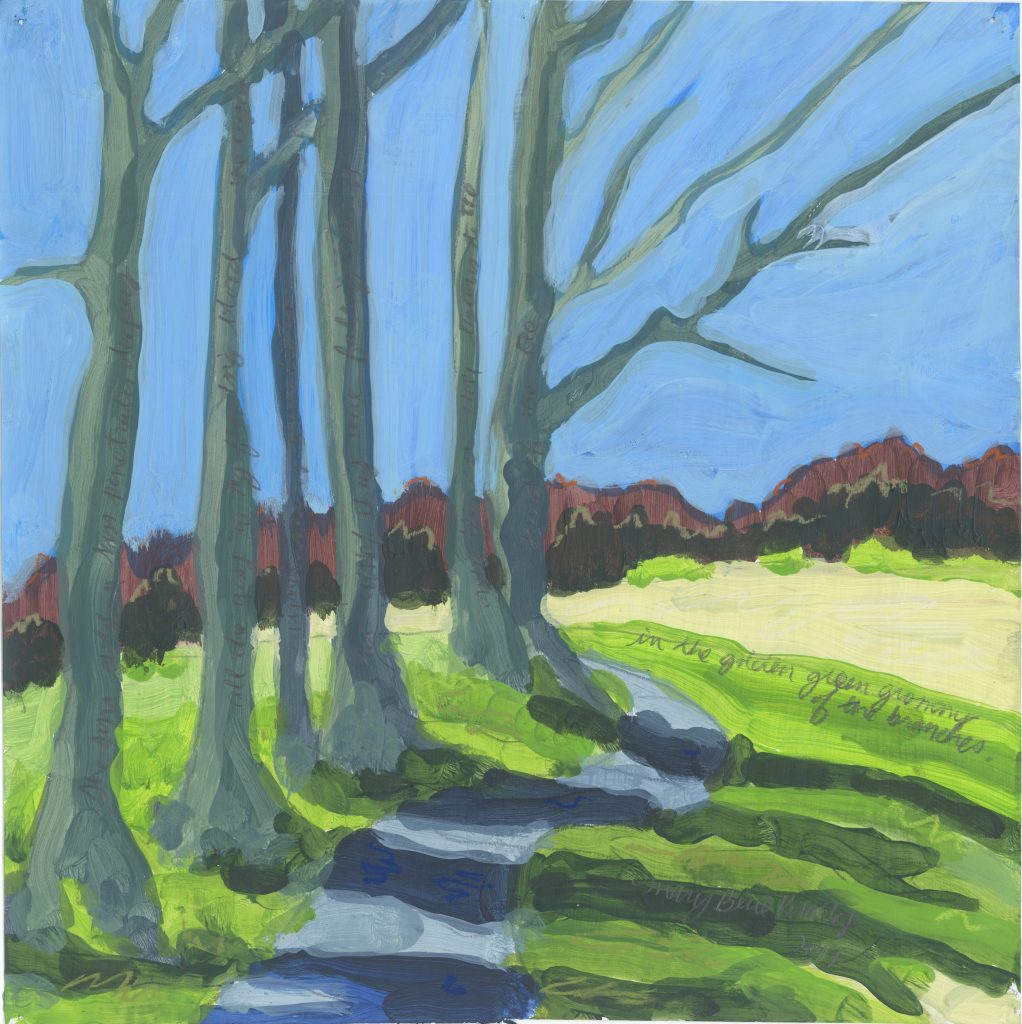 Golden Green Gloaming is a new work by Mary Blue Brady, who relocated to the UK from the US in 2013. She tells me that "As an American artist living in Norfolk these images are my way of 'finding home'. My recent landscapes echo the making of a life in my adopted country…and my current work revolves around finding a sense of place and belonging. In an effort to gain my bearings I move through the countryside, drawn to the cultivated fields and tree-lined roads so different from the wild and uncultivated landscape that I painted in the US." The artist is participating in Norfolk Open Studios in May & June – find details here
Roy Brooks, Bridge #1, acrylic on canvas, 1010 x 1600mm, 2015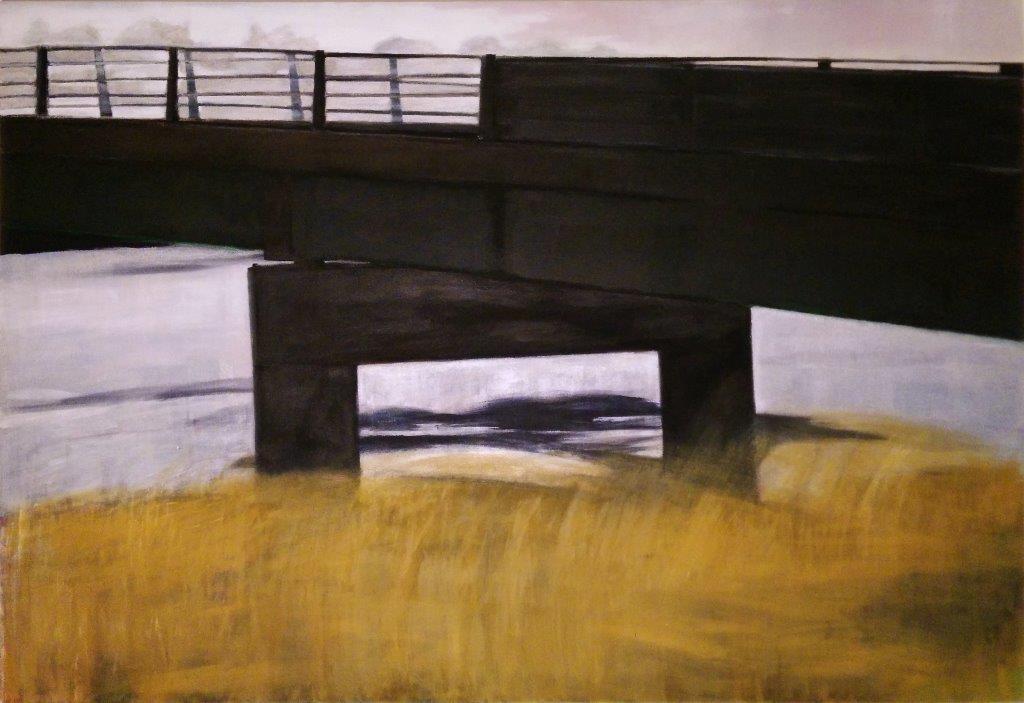 This enigmatic painting comes from Roy Brooks, who has been in Norfolk since 2006 and tells me he is "Drawn by the wide skies and vast, flat fens that remind me of my childhood on the African Savannah." Since then, he has been cycling the country's droves and tracks and spends the occasional night sleeping out under the stars. The work here is part of a series of large landscape paintings of which he says "I hope convey something of the inspiration I find in the quotidien reality around me."
Light Spill, watercolour by Godfrey Sayers, 2014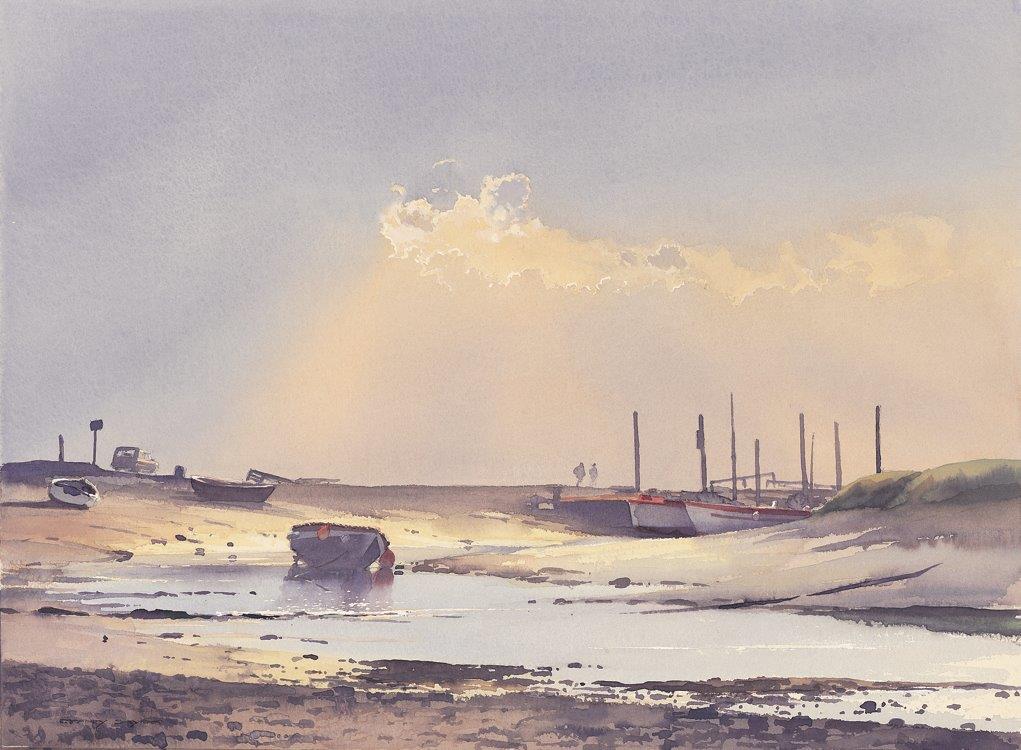 This beautiful watercolour by Godfrey Sayers features on the front cover of his new book Once Upon a Tide, published in Spring 2015. Godfrey is a fisherman, artist and local campaigner who, apart from his time at sea, has spent all but the first four years of his life in North Norfolk.
The Seagull and the Kite, oil on canvas, 90 x 90 cms, by Lara Cobden, 2012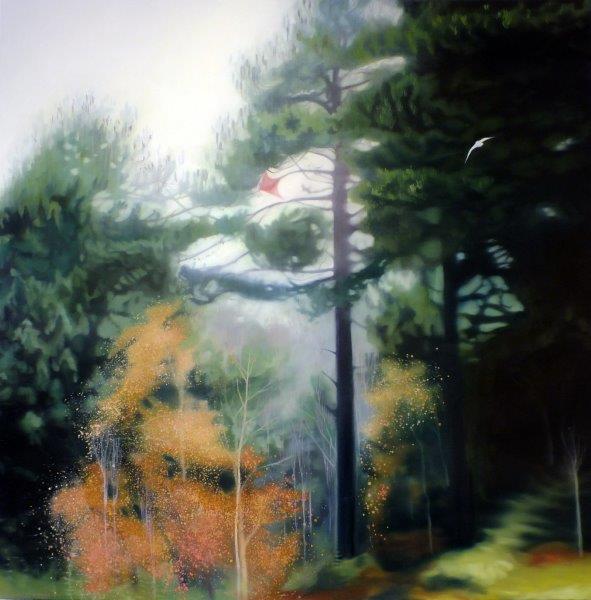 Lara Cobden's work is based on a central theme of recollection and a sense of place informed by observation, memory and dream. She visits the woods and beach at Wells-next-the-Sea, sketching and photographing but tells me that most of her paintings grow from a combination of photos and memories of certain places and experiences. Lara says, "this painting is about transience; a moment captured. The tethered red kite, snagged, and the white seagull soaring. The dark interior of the forest tempting me in… Wells-next-the-sea is a magical place, that combination of dark pine forest next to wide open dunes that lead to the sea – a place for contemplation." It relates to a quote from Charles Baudelaire, exhorting artists to "Extract the eternal from the ephemeral." More about this artist: http://laracobden.com/home.html
February Birches, oil on linen, by Rachel Lockwood, 2013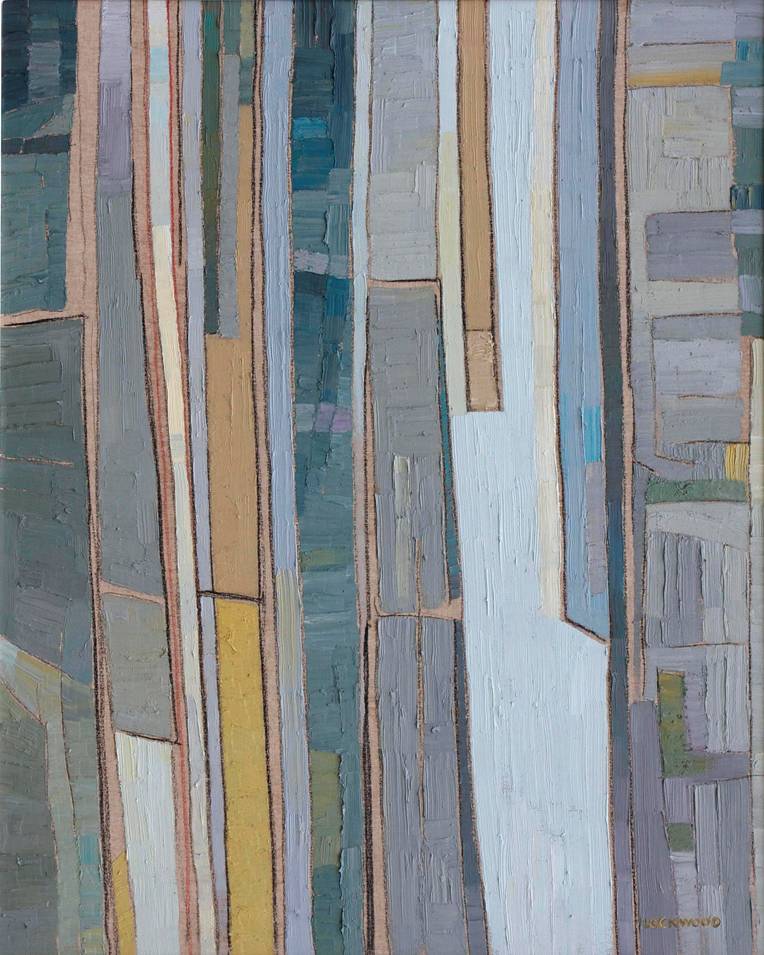 Rachel Lockwood will be well-known to those familiar with this coast and especially the Pinkfoot Gallery in Cley-next-the-Sea, where she exhibits regularly. Rachel says "I am influenced greatly by my surroundings here on the North Norfolk Coast. It's such an amazing area with so many different habitats and subjects." Lately, the artist has been focusing on woodlands, also the subject of her new book – Forest and our picture this month is a magnificent example from this series. Read more about her at http://www.rachellockwoodartist.co.uk/ and http://www.pinkfootgallery.co.uk/
Summer Wildflowers before the marsh, oil on canvas by Chloe Mandy, 2013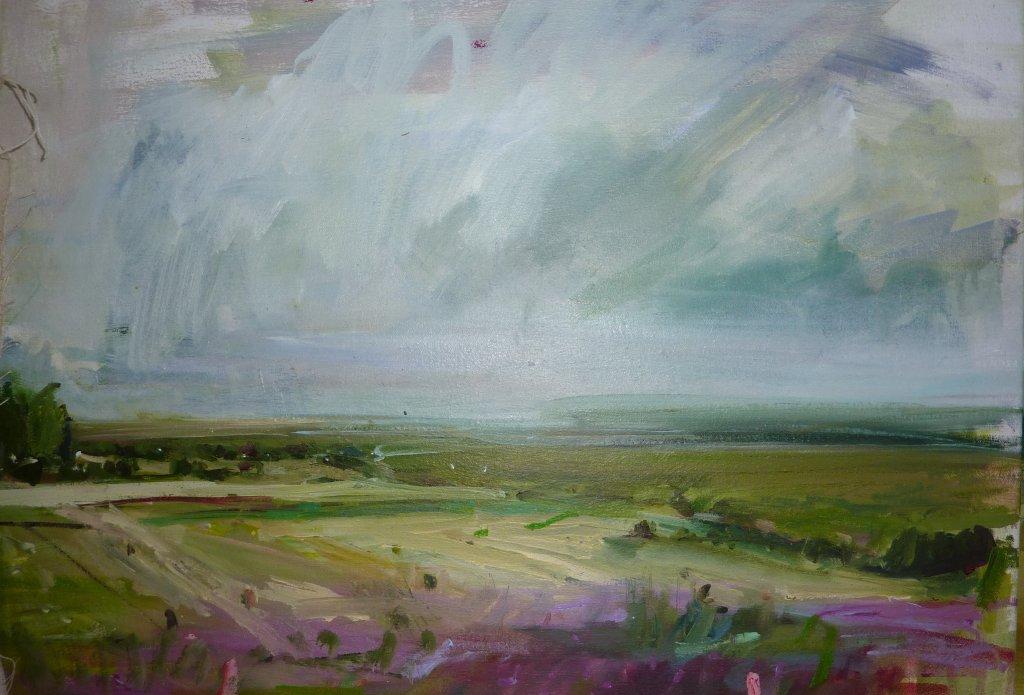 Strandline, acrylic & mixed media on canvas, 100 x 100 cm, by Mari French, 2012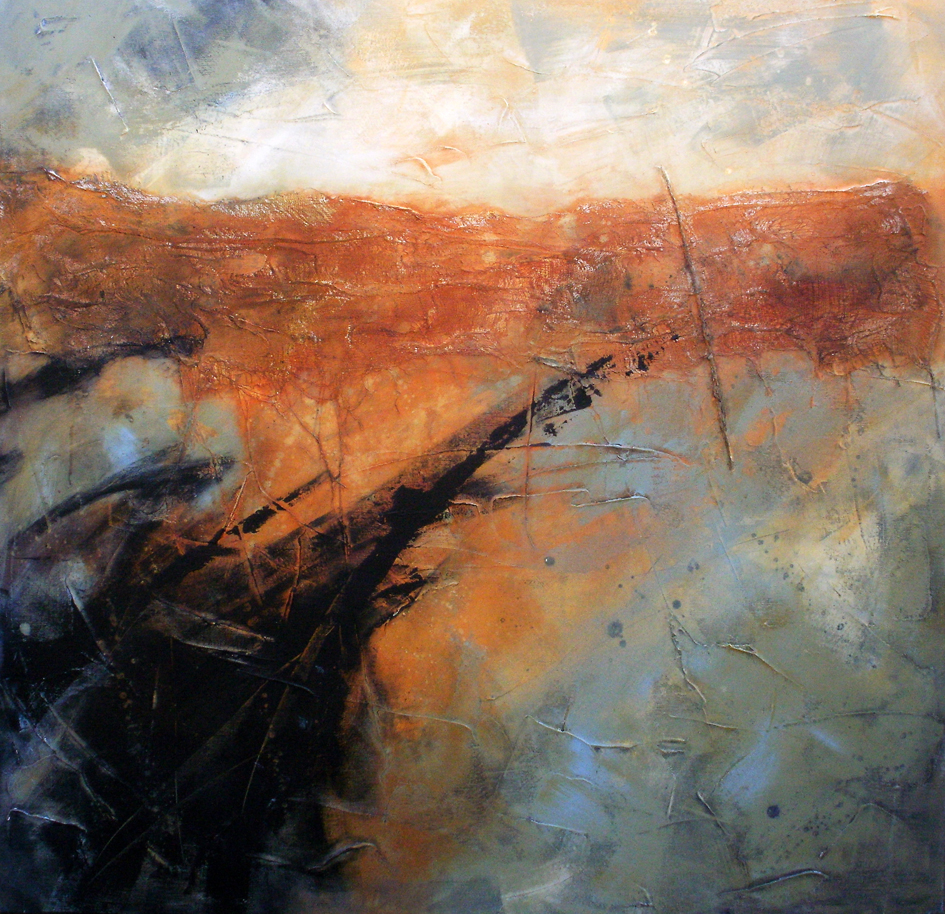 Mari French's work is immersed in the wild expanse of the saltmarsh at Thornham, which she finds to be "at once an ancient and constantly renewed landscape." Her paintings observe the straight lines of ditches, fields, rows of poplars on the horizon with vertical elements of channel marker posts and the totemic remains of wooden staithes punctuating the flat landscape. These are abstracted to create "calligraphic forms scribbled against the sky." Her technique of layering and scratching out to expose under-painting adds to the sense that we are witnessing geological time passing, only briefly touched by human hand. http://www.marifrench.com/
Norfolk Poppies, Wiveton, oil on canvas by Jeremy Galton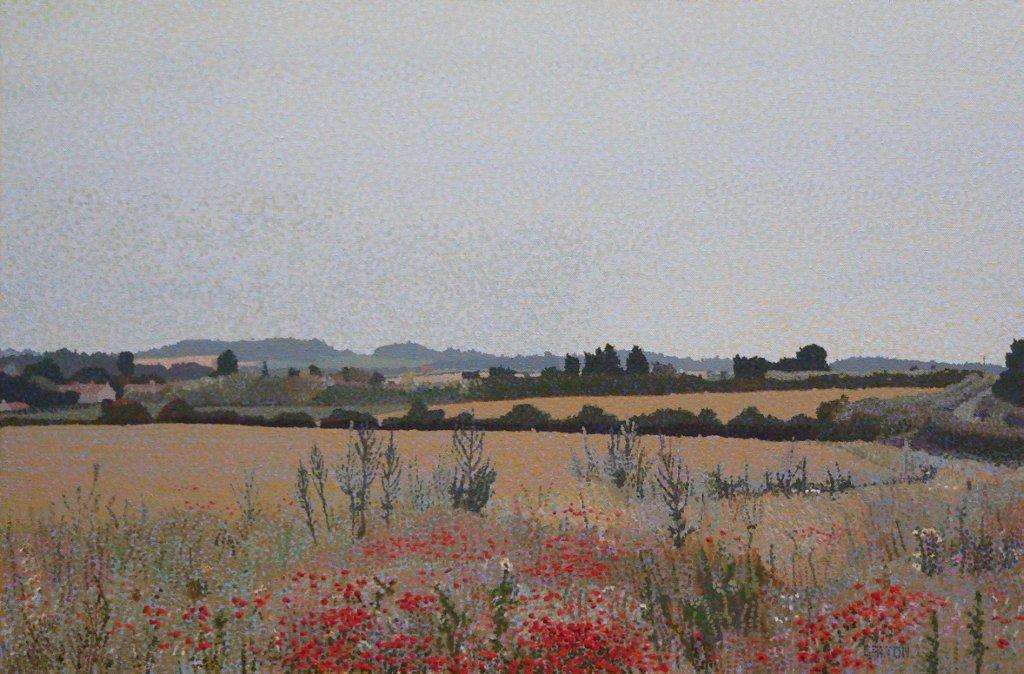 Jeremy Galton, based in Cley-next-the-Sea, is inspired by the coastal and inland landscapes of North Norfolk. He produces sketches on location which are then developed into finished paintings in the studio. This picture shows his unusual technique of dots or small spots of colour, laid close together on the canvas – a new interpretation of 19th-century French Pointillism, used to great effect here featuring the wildflowers of this region. http://www.jeremygalton.com/
Parade, acrylic on linen by Sarah Caswell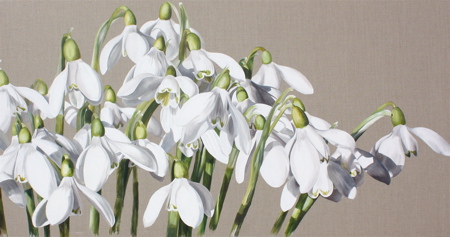 Sarah is one of the most renown of flower painters in the UK. Rather than a traditional approach, her works are 'portraits of flowers', the subject becomes almost an abstract object, and are often on a dramatically large scale (as here, the dimensions of this work are 70cm x 130cm). Exhibited at the 2011 RHS Chelsea Flower Show, this painting depicts the famous wild snowdrops at Walsingham, the artist's home village. She will again be exhibiting at Chelsea in May 2012. http://www.sarahcaswell.co.uk/
Winter at Morston, oil on canvas by Brian Ryder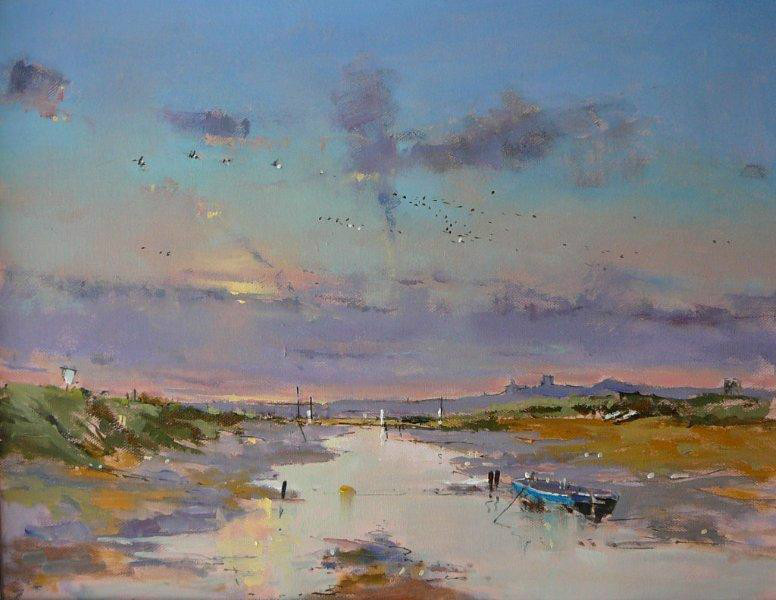 Congratulations to Brian who has recently been elected a Full member of the prestigous Royal Institute of Oil Painters. Brian in interested in one's experience of the atmosphere experienced along the Coast and this painting gives a feel of the 'watery-ness' and liminal quality of a constantly shifting landscape on the edge. http://www.brianryder.org/
Cley Mill with Clouds, oil on canvas by Linda Pattrick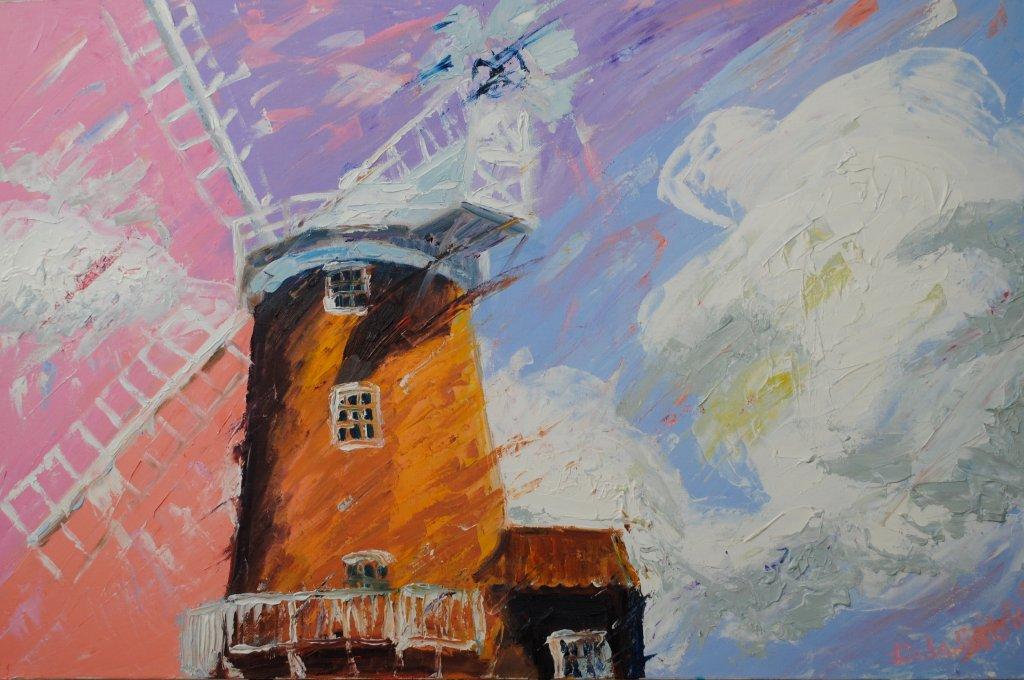 A graduate of the Royal College of Art, Linda's work is characterised by bright colour and strong paint work, seen here in this iconic image of the windmill at Cley-next-the-sea. It gives a real sense of the sharp blustery wind whipping off the coast as sunset draws near. Linda lives in Wells, see more of her work at http://www.lindapattrick.com/
Marsh Dyke, 2014 watercolour by John Hurst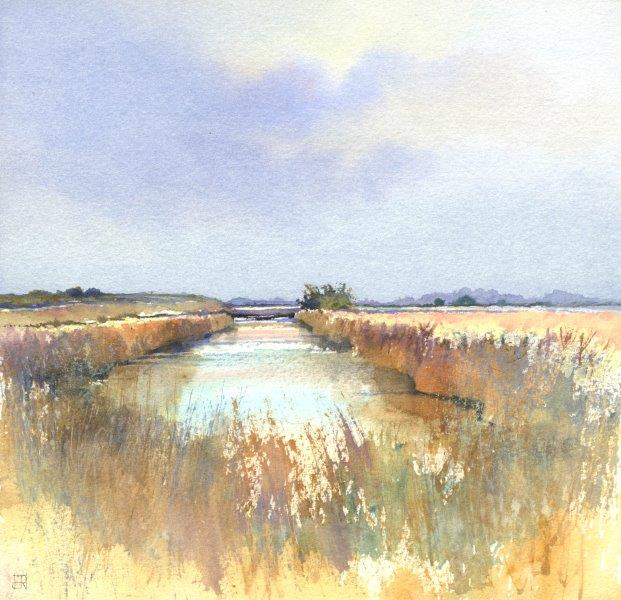 A resident of Sheringham, John Hurst specialises in landscape, architectural and maritime studies in watercolour to include the working people of the Norfolk Coast. John supports local charities and accepts commissions that relate to his scheme of work. For details of current projects and to view John's original paintings please browse http://www.marshlandarts.co.uk/
Text and images on this site are subject to copyright and may not be reproduced without permission.